NOTE
: Book your bus ticket online by using the Mytrip.ng Mobile app, available on both
iOS
and
Android.
Download for Android Phones
HERE
, Download for Apple Phones (iOS)
HERE
, Register, Login and Start booking. You can also call/text/whatsapp us on
+2348084711442
.
Benin City is also called Edo, capital and largest city of Edo state, southern Nigeria. Benin City is situated on a branch of the Benin River and lies along the main highways from Lagos to the eastern states. The city is also linked by roads to Sapele, Siluko, Okene, and Ubiaja and is served by air and the Niger River delta ports of Koko and Sapele.
Benin City has long been famous for its "bronzes"—actually brass work, some of which is said to date from the 13th century—and for its ivory and wood carvings. Its museum (1960) has a notable collection of some of the kingdom's early pieces. The city's present artisans still practice the ancient method of cire perdue ("lost-wax") casting, and its wood-carvers are organized into a cooperative craft society.
The centre of Nigeria's rubber production, Benin City has several processing plants and a crepe rubber factory. The Rubber Research Institute of Nigeria (1961) is nearby at Iyanomo. Benin City also has sawmills. Products produced in the city include furniture, beer, and soft drinks. The traditional export of palm oil and palm kernels remains important. The Nigerian Institute for Oil Palm Research (1939) is here. Benin City is the site of the University of Benin (1970). Pop. (2006 est.) 1,500,000; (2016 est.) urban agglom., 1,495,000. Travelling from Lagos to Benin City is estimated at 3 hours 10 minutes if average speed speed is 102km/hr.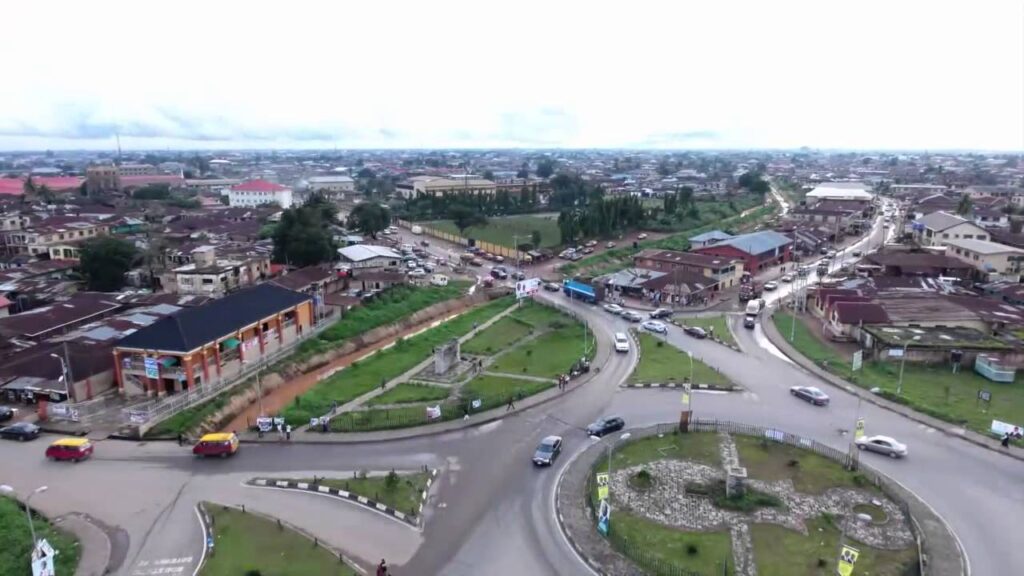 Choosing A Bus from Lagos to Benin City
There are several factors to consider when choosing a bus from Lagos to Benin City as stated below:
1. Budget: When considering the transport company to choose, you should look out for a transport company that offers a price range you can afford.
2. Convenience: It is very important that you ask about the seating arrangements, so you don't end up squashed or in a terrible seat for an 3-hour trip. Using the mytrip.ng mobile app will definitely help archive that.
3. Proximity to your home: You should pick a transport company that has a terminal close to where you live. This would allow you to get there early on the day of your trip.
4. Route: Different Transport companies ply different routes from Lagos to Benin City, so it is advisable to pick a bus according to your preferred route.
The conditions stated above have been made so simple getting to know at your home with the use of the mytrip.ng mobile App.
Finding Benin City Bound Buses
There are several companies which offer road transport services from Onitsha to Lagos. The buses which travel from Onitsha to Lagos route can be found at any of the following terminals;
Amuwo Odofin Terminal, Lagos
Plot 79,Oba Kayode Akinyemi Way By Festac Bttpass,
Lagos, Lagos
Pin: 0027
081-42552436contact@abctransport.com
Bolade Oshodi Terminal, Lagos
129 Agege Motor Road
Lagos, Lagos
Pin: 0027
07056442644contact@abctransport.com
Jibowu Terminal, Lagos
22, Ikorodu Road, Jibowu, Yaba,
Lagos, Lagos
Pin: 0027
08142552434contact@abctransport.com
Lagos Ajah Terminal
Km 21 Lekki-Ajah Expressway, beside Ajiwe Police Station Ajah
Lagos, Lagos
08166755852contact@abctransport.com
Lekki Ticketing Outlet
Opp Jakande 1st ga te Beside FCMB Bank, Lekki Expressway
Lagos, Lagos
Pin: 0027
081-38273133contact@abctransport.com
Mazamaza
No 35 Old Ojo roads, by Dandolas Park MazaMaza
Lagos, Lagos
Pin: 1111
08035254224
Cost of Lagos to Benin City Buses
A bus ticket from Lagos to Benin City costs an average of N7,000 depending on the transport company and the category/ type of bus used for the journey. This is subject to change by the specific transport company. For current information on bus fares and routes, please download and check the mytrip.ng mobile App on Google playstore for real time prices of buses.
Travel Time from Lagos to Benin City
A trip from Lagos to Benin by road is approximately 3 hours 30 minutes. This is based on militating factors that varies on weather, route taken etc. The time taken to travel by road from Lagos to Benin City is about 3 to 4 hours.  This wide time range depends on the following factors;
1. The driving speed
2. The nature and age of the vehicle
3. The condition of the road on the route taken
4. Traffic; this could be caused by various reasons, ranging from accidents to road repairs
5. The route taken by the driver.
What to Pack
1. Pack light. A trick I apply is that I make sure every item of clothing can be worn at least 3 times. Having a small bag will also give you a lot less to worry about while getting on board the bus.
2. If you have to carry heavy bags, then you should be at the bus park about an hour earlier than the tentative take off time, so you and the transport company assistants can figure out the best way to cram your luggage into the bus.
3. Your carry-on should be a backpack or a large handbag, since you can easily drop either on the floor of the bus if you get tired of carrying it on your lap.
What to Eat
The bus usually makes a stop at Ibadan. You will find sufficient food items at this stop if you decide not to bring some from home.
It is advisable to eat light or not at all if like me, your stomach has no respect for you. This is because the only bathroom option available to you after the stop is the bushes by the roadside.
Where to Stay
There are a lot of tourist places and hotels in Benin City that visitors don't need to worry about where they could sleep in the cause of their visit or business. The hotels in Benin City are classified in to presidential, medium and low budget. Everyone can get an accommodation no matter your budget, but for comfortability, convenience and security wise, we encourage you to use LushVille Hotel & Suites Located in Benin City, 4.4 km from The Benin City National Museum, Lushville Hotel & Suites provides accommodation with a restaurant, free private parking, an outdoor swimming pool and a bar.
Travel Tips
1. A seat right beside the window would be perfect if you can get it. They are usually the first seats to go. If you would like a window seat it is advisable to get to the bus park early.
2. Prepare for weather changes by carrying a big scarf or a sweater.
3. Expect stretches of bumpy roads, so keep a packet of panadol in your bag for a resulting headache.
4. You may sleep your way through most of the trip, it'll seem faster that way.
5. Keep your carry-on bag close to you at all times.
6. Read signposts to get your bearings. If you need advice or help when you get to your stop, ask the driver or other passengers for help.
7. Make sure you keep someone at home or at your destination abreast of your progress via text or phone call.
For your travel updates on prices, available buses, different selection of preferred bus and selection of preferred choice seat in real time, get to the Google play store, search for mytrip.ng mobile App, download, install, register, login and all is set on your finger tip. Mytrip.ng: a smarter way to travel across Nigerian States.